Cease Fire is a Vague Term to White Folks. Israelis have come to a mournful, two-minute standstill as sirens pierced the air in remembrance of the 6 million Jews killed in the Nazi Holocaust during World War II. Israel's annual Holocaust memorial day, marked Thursday, is one of the most solemn on the nation's calendar.
As the siren sounded, cars and buses pulled over on the side of highways and roads. Motorists stepped out of their cars and pedestrians stopped in their tracks, bowing their heads as they remembered those who perished. On Wednesday, Mr. Kill 'em All, Prime Minister Benjamin Netanyahu compared Iran to the Nazis and warned the Islamic Republic must be prevented from obtaining nuclear weapons.[MORE] After the 120 seconds of silence its back to killing every Brown person in sight!
Join the Gang. According to Hitler, Jewish people were not white people- they were an inferior race, an alien threat to racial (white) purity and community. In Nazi Germany (1933-1945}, a genocidal imperative was declared when the Semite and gypsy populations were classified as non-white and therefore were deemed worthy of destruction. (The word Semite is from the Latin prefix, semi meaning "half' - half Black and half white, and that means mulatto (non-white).[MORE] Nevertheless, today Israeli Jews seem willing to do anything to become full fledged honorary members of the 'white family' and to demonstrate their commitment to white supremacy/racism.
Psychopaths
According to Dr. Bobby Wright, "in their relationship with Non-white people, Whites function as psychopaths and their behavior reflects an underlying biologically transmitted proclivity with roots deep in their evolutionary history. The psychopath is an individual who is constantly in conflict with other persons or groups. He is unable to experience guilt, is completely selfish and callous, and has a total disregard for the rights of others. This premise is supported by overwhelming scientific evidence.
Behavioral scientists generally agree that the outstanding characteristics of the psychopathic personality are the almost complete absence of ethical or moral development and an almost total disregard for appropriate patterns of behavior. This characteristic has led to a misunderstanding of the psychopath as someone who does not know the difference between right and wrong. This belief is not true; psychopaths simply ignore the concept of right and wrong.
Unlike other extreme pathological syndromes, only a very small percentage of psychopaths are committed to mental hospitals with another small percentage ending up in penal institutions. The majority of psychopaths function very well in society." [MORE]
[MORE]
[MORE]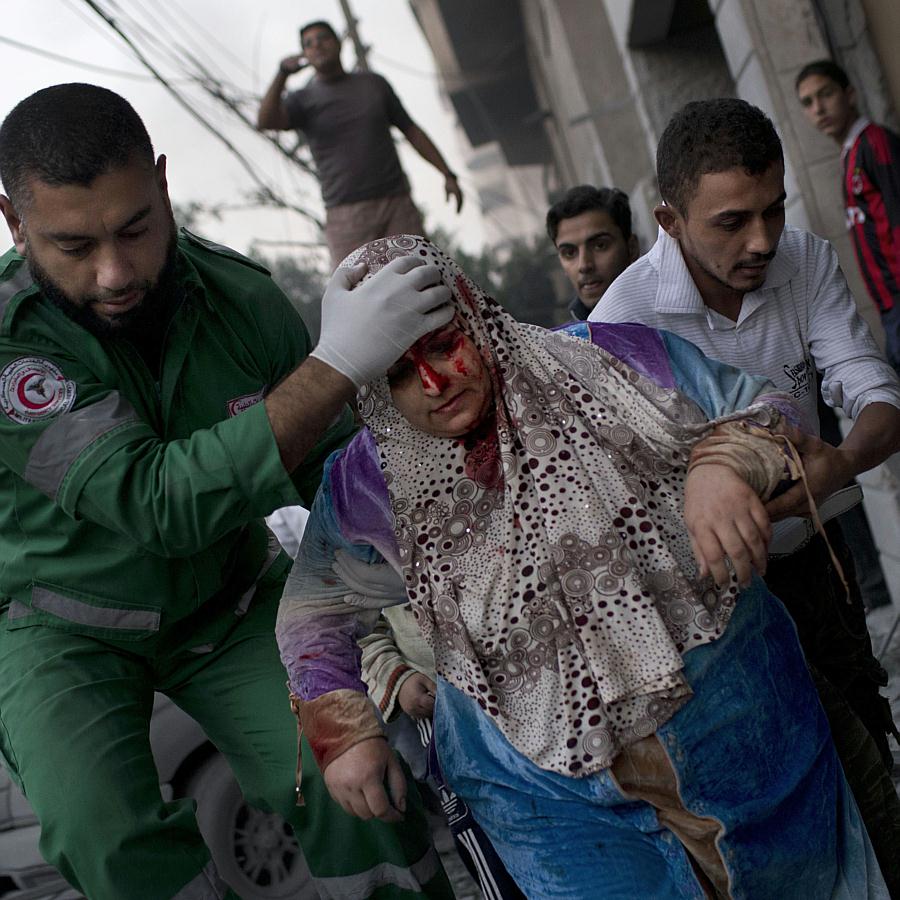 Gaza, November 19, 2012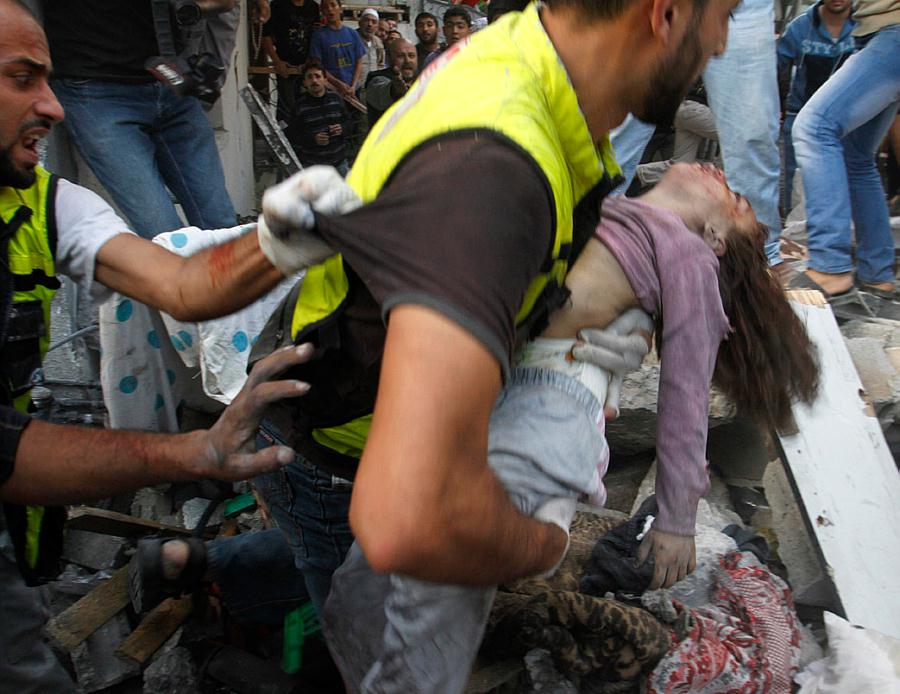 An emergency rescue worker carries a child's body found in the Daloo family house rubble following an Israeli air strike in Gaza City, on November 18, 2012. Palestinian medical officials say at least 10 civilians, including women and young children, were killed in an Israeli airstrike in Gaza City. AP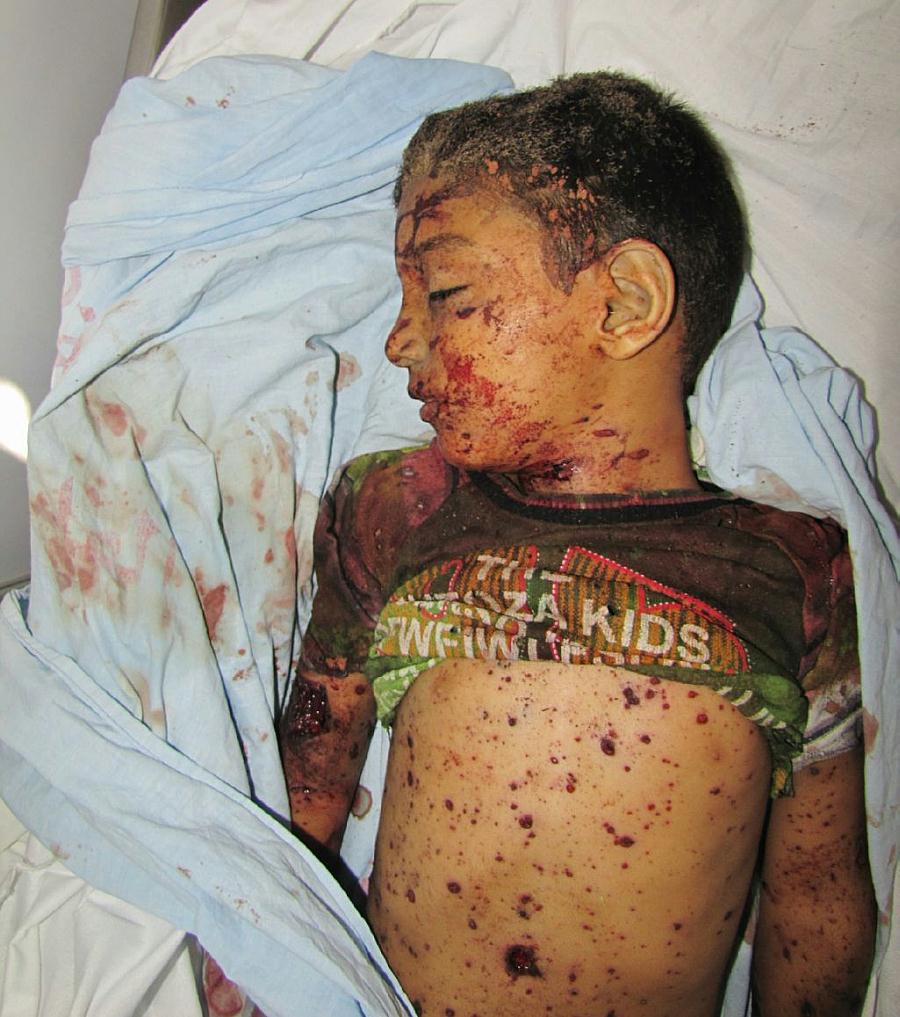 Shaheed Muatazz al-Sawwaf, 6 years old June 23, 2012. Rosa Schiano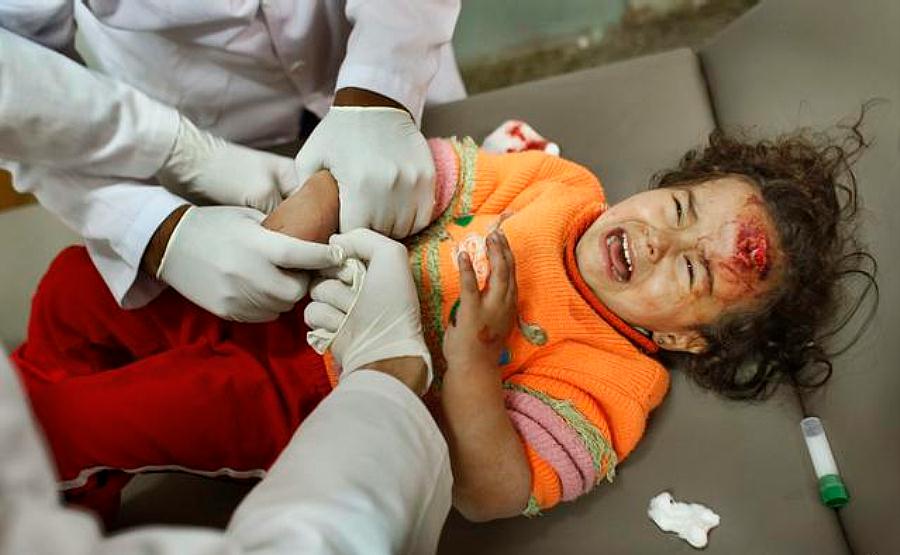 Bissane Barhoum, 3, screams as she is treated by medics for a head wound caused by falling down stairs when she ran in panic reacting to a nearby blast, according to her uncle, at the an-Najar hospital in Rafah, southern Gaza strip, Saturday, Jan. 17, 2009. AP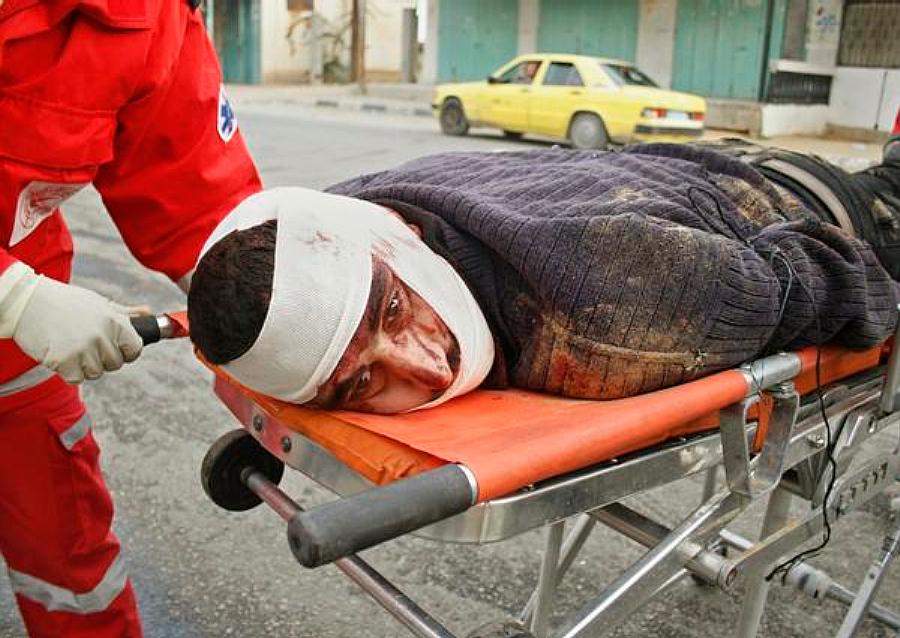 Palestinian medics wheel a man wounded in an Israeli missile strike into hospital in Rafah, southern Gaza Strip, Friday, Jan. 16, 2009. Israel's Security Cabinet will vote Saturday night on an Egyptian proposal for a truce to end the 3-week-old offensive against Gaza's Hamas rulers, a senior government official said. AP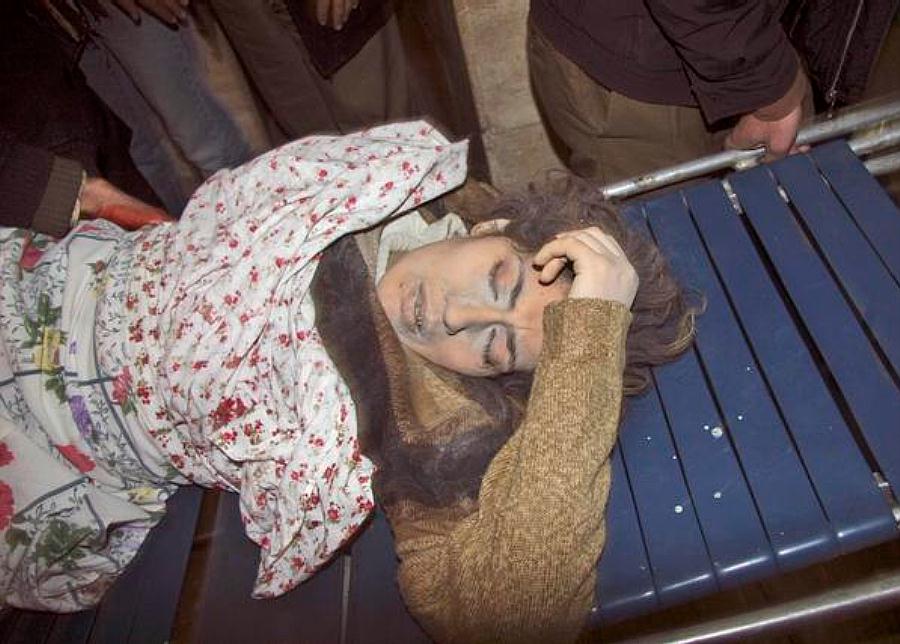 Palestinian medics wheel a wounded girl to the treatment room of Shifa hospital following Israeli military operations in Gaza City, Wednesday, Jan. 14, 2009. Israel showed no signs of slowing its bruising 19-day offensive against Gaza's Hamas rulers, striking some 60 targets on Wednesday. Israel launched the onslaught on Dec. 27, seeking to punish the Hamas militant group for years of rocket attacks on southern Israel. The offensive has killed more than 940 Palestinians, half of them civilians. AP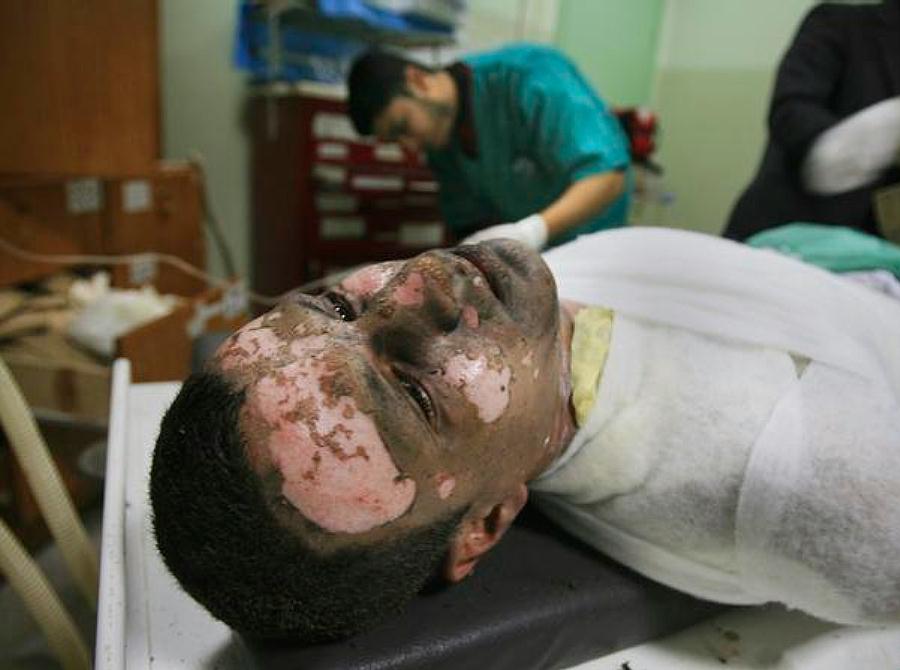 ** EDS NOTE GRAPHIC CONTENT ** Palestinian Akram Abu Roka is treated for burns at Nasser Hospital in Khan Younis in the southern Gaza Strip, Sunday, Jan. 11, 2009. The hospital's chief doctor said the injuries might have been caused by munitions containing white phosphorus. Human Rights Watch said Sunday that Israel's military has fired artillery shells packed with the incendiary agent over populated areas of Gaza, putting civilians at risk. AP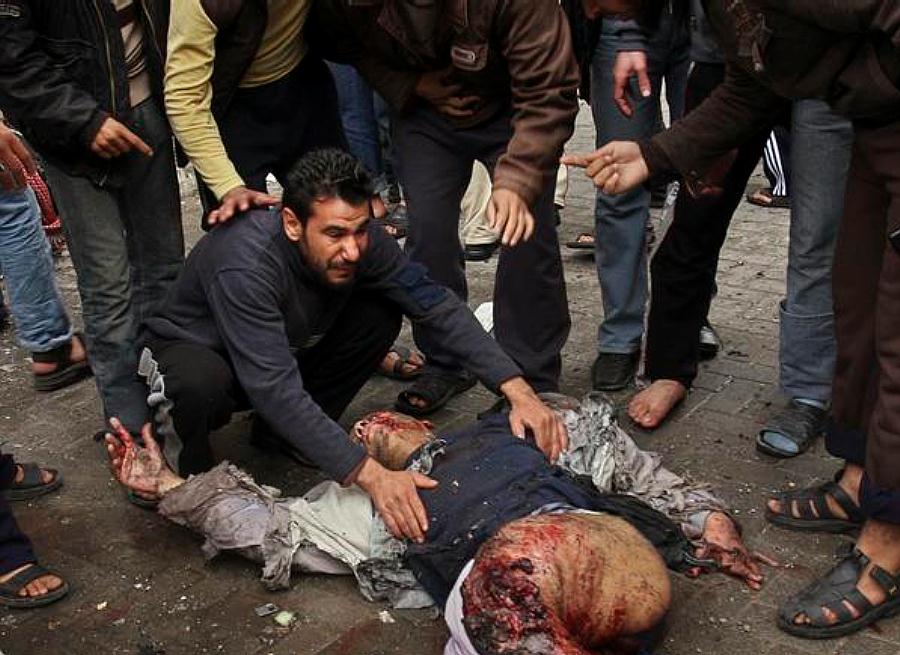 ** EDITORS NOTE GRAPHIC CONTENT ** A severely injured Palestinian man is helped as he lays on the ground moments after being hit in an Israeli missile strike outside his home in Beit Lahiya, northern Gaza Strip,Thursday, Jan. 8, 2009. Five Palestinians were killed in the strike, Palestinian medical sources said. Lebanese militants fired at least three rockets into northern Israel early Thursday, AP
** EDS NOTE GRAPHIC CONTENT ** A Palestinian woman reacts over relatives moments after they were killed in an Israeli missile strike outside their home in Beit Lahiya, northern Gaza Strip,Thursday, Jan. 8, 2009. Five Palestinians were killed in the strike, Palestinian medical sources said. Lebanese militants fired at least three rockets into northern Israel early Thursday, threatening to open a new front for the Jewish state as it pushed forward with a bloody offensive in the Gaza Strip. AP
A severely injured Palestinian man is carried moments after being hit in an Israeli missile strike in Beit Lahiya, northern Gaza Strip, Thursday, Jan. 8, 2009. Five Palestinians were killed in the strike, Palestinian medical sources said. Lebanese militants fired at least three rockets into northern Israel early Thursday, threatening to open a new front for the Jewish state as it pushed forward with a bloody offensive in the Gaza Strip that has killed nearly 700 people. AP
** EDS NOTE GRAPHIC CONTENT ** A Palestinian carries a wounded girl who according to Palestinian medical sources was injured in Israeli forces' operations in Gaza, at Shifa hospital in Gaza City, Tuesday, Jan. 6, 2009. An Israeli bombardment hit outside a U.N. school where hundreds of Palestinians had sought refuge on Tuesday, and Palestinian medics said at least 34 people died as international outrage grew over civilian deaths. AP
** EDS NOTE GRAPHIC CONTENT ** Palestinian medics examine the body of a boy who according to Palestinian medical sources was killed in Israeli forces' operations in Gaza, at Shifa hospital in Gaza City, Tuesday, Jan. 6, 2009. An Israeli bombardment hit outside a U.N. school where hundreds of Palestinians had sought refuge on Tuesday, and Palestinian medics said at least 34 people died as international outrage grew over civilian deaths. AP
** EDS NOTE GRAPHIC CONTENT ** Palestinians lay down the bodies of Ahmed, center foreground, and Mohamed Samouni, right, who according to Palestinian medical sources were killed in an Israeli strike, during their funeral in Gaza City, Monday, Jan. 5, 2009. Israeli forces pounded Gaza Strip houses, mosques and smuggling tunnels on Monday from the air, land and sea, killing at least seven children as they pressed a bruising offensive against Palestinian militants. AP
** EDS NOTE GRAPHIC CONTENT ** Palestinian boys kneel over the bodies of Issa, left, Ahmed, center, and Mohamed Samouni, right, who according to Palestinian medical sources were killed in an Israeli strike, during their funeral in Gaza City, Monday, Jan. 5, 2009. Israeli forces pounded Gaza Strip houses, mosques and smuggling tunnels on Monday from the air, land and sea, killing at least seven children as they pressed a bruising offensive against Palestinian militants. AP
A Palestinian medic carries a wounded girl to the treatment room of Shifa hospital following an Israeli missile strike in Gaza City, Thursday, Jan. 1, 2009. More than 400 Gazans have been killed and some 1,700 have been wounded since Israel embarked on its aerial campaign, Gaza health officials said. AP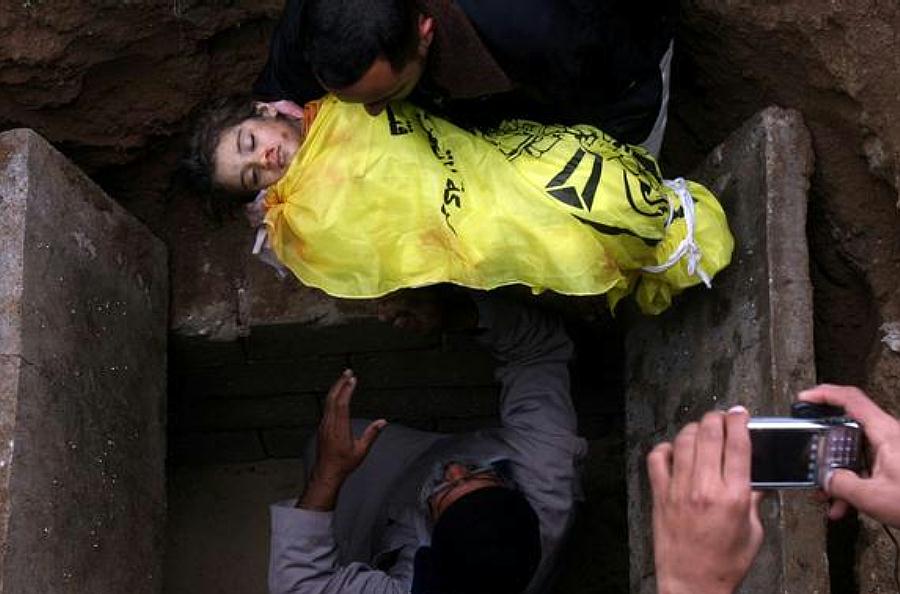 ** FILE ** In this Tuesday, Dec. 30, 2008 file photo, the body of 4-years-old Palestinian girl, Haya Hamdan, killed with her sister, Lama, 12, in an Israeli missile strike, is seen, during her funeral in the town of Beit Hanoun, northern Gaza Strip. At least 169 children and teens, ages 17 and under, have been killed, and many more wounded since Dec. 27, according to Palestinian medics and human rights researchers. AP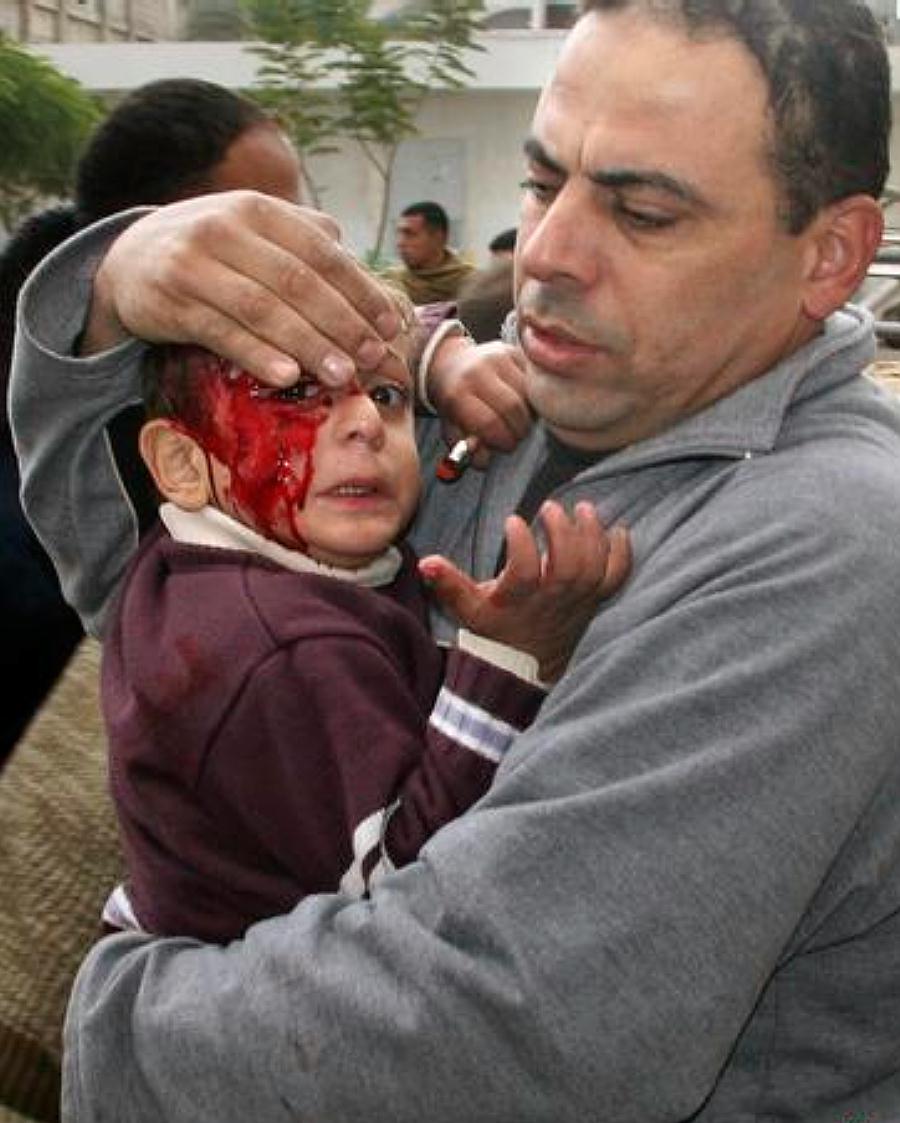 A Palestinian man carries his wounded child to the treatment room of Kamal Edwan hospital following an Israeli missile strike in Beit Lahiya, northern Gaza Strip, Monday, Dec. 29, 2008. Israel's overwhelming air campaign against the Gaza Strip inched closer to the territory's Hamas rulers as the assault entered its third day Monday, as missiles struck a house next to the Hamas premier's home and destroyed symbols of the Islamic movement's power. AP
Palestinian children from the Balosha family, who were all killed in the same Israeli missile strike, are seen in the morgue before their burial at Kamal Edwan hopsital in Beit Lahiya, northern Gaza Strip, Monday, Dec. 29, 2008. Israel's overwhelming air campaign against the Gaza Strip inched closer to the territory's Hamas rulers as the assault entered its third day Monday, as missiles struck a house next to the Hamas premier's home and destroyed symbols of the Islamic movement's power. AP
An injured Palestinian prisoner shouts for help as he is trapped in the rubble of the central security headquarters and prison, known as the Saraya, after it was hit in an Israeli missile strike in in Gaza City, Sunday, Dec. 28, 2008. More than 270 Palestinians have been killed and more than 600 people wounded since Israel's campaign to quash rocket barrages from Gaza began midday Saturday. AP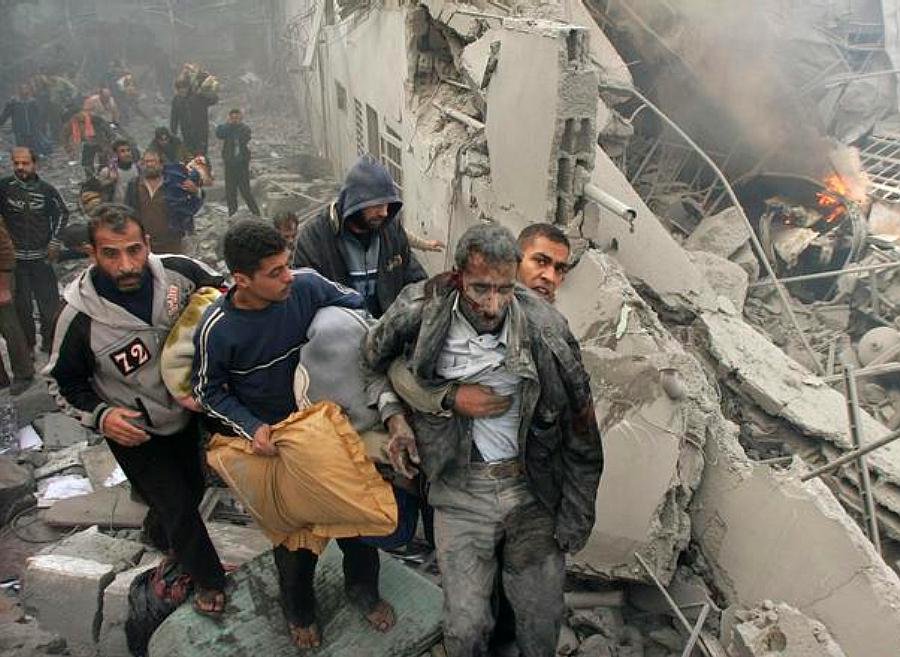 An injured Palestinian prisoner is helped as he and others flee through the rubble of the central security headquarters and prison, known as the Saraya, after it was hit in an Israeli missile strike in in Gaza City, Sunday, Dec. 28, 2008. More than 270 Palestinians have been killed and more than 600 people wounded since Israel's campaign to quash rocket barrages from Gaza began midday Saturday. AP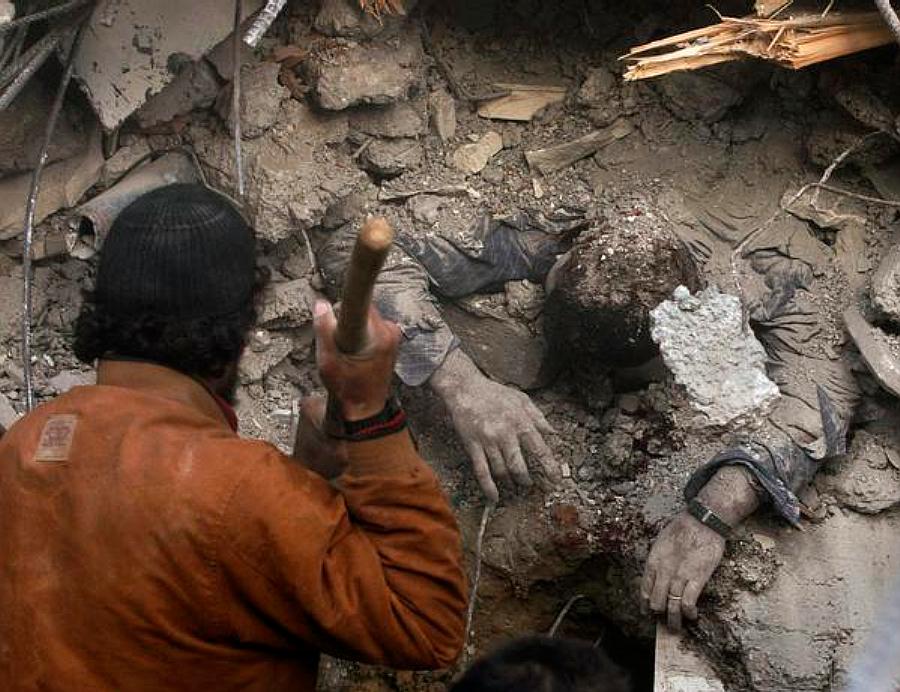 Palestinians try to dig out the remains of a security force officer from Hamas as he lays in the rubble following an Israeli missile strike on a building in Gaza City,Sunday, Dec. 28, 2008. More than 270 Palestinians have been killed and more than 600 people wounded since Israel's campaign to quash rocket barrages from Gaza began midday Saturday, Palestinian medical sources said. AP
A Palestinian man wounded in an Israeli missile strike is helped into the emergency area at Shifa hospital in Gaza City, Saturday, Dec. 27, 2008. Israeli warplanes retaliating for rocket fire from Gaza pounded dozens of security compounds across the Hamas-ruled territory in unprecedented waves of air strikes Saturday, killing at least 155 and wounding more than 310 in the bloodiest day in Gaza in decades. AP
** EDS NOTE GRAPHIC CONTENT ** A Palestinian man reacts over the body of a member of the security forces of Hamas at the site of an Israeli missile strike at the security headquarters in Gaza City, Saturday, Dec. 27, 2008. Israeli warplanes demolished dozens of Hamas security compounds across Gaza on Saturday in unprecedented waves of simultaneous air strikes. Israeli warplanes attacked dozens of security compounds across Hamas-ruled Gaza on Saturday in unprecedented waves of air strikes. AP
** EDS NOTE GRAPHIC CONTENT ** Palestinian medics gather around the body of a dead militant after he was brought to hospital in Deir El-Balah, central Gaza Strip, Thursday, July 5, 2007. Israeli troops clashed with Hamas militants inside the Gaza Strip on Thursday, killing eight in fierce fighting that drew in Israeli aircraft, tanks and bulldozers, and sent militants laying mines against troops. AP